My Speedcubing Story | JS cuber
Jun 14,2022 | JS cuber
Hey! I'm Jorge Sánchez from Mexico, better known as JS cuber on social media. I started cubing in 2009. During those years, speedcubing was starting to become popular.Erik Akkersdijk and Yu Nakajima were some of the most popular cubers. Doing a sub 10 on 3x3 was a world-class solve and competitions were not very common in some countries yet.
Even though there were already speedcubes, many of them became disassembled in a plastic bag, you had to assemble piece by piece, and the most famous lubes were CRC and Traxxas. Oh, good old times!
However, without a doubt, even though today records are harder to break than ever, speedcubing is much better nowadays. Speedcubes are in another level and every new innovation still leaves me astonished. Competitions take place everywhere every single weekend, the quantity of puzzles that are launched to the market is enormous and buying puzzles is easier than ever.
Today I will tell you how I started cubing, my process on how I got my first national records and some of my favorite accomplishments and moments during these years! Maybe some cubers can somehow idenfity with how I started cubing. My father once challenged me to solve a cube, I told him I would solve it if he could solve it first. He went to his room and after some minutes he had the cube solved. I remember I was so excited and hyped, I wanted to solve it too (some time later, I realized he had disassembled the cube and reassembled it in the correct way, but by the time, it was too late, I already was a speedcuber).
As he had already solved it, it was my turn to learn. With all that motivation, I locked myself in my room, took a laptop and started to look for tutorials. I still remember there was only one good tutorial in Spanish, and even though it was very long, I didn't have any other good option. After 5 or 6 days, I could finally solve it, I'm sure every cuber knows what it feels like to solve a cube for the first time. I felt excited and calm at the same time, I felt as if every other challenge in life, no matter how hard it was, I would eventually find a solution for it.
Some months later, in that same year (2009) I went to my first competition. There were not many competitions in my country so going there was a must. I was the younger cuber with an age of 10, and I was also the slowest one. This didn't discourage me, this actually motivated me to become better.
I started to look for PDFs and some video tutorials to become faster. I discovered fingertricks, CFOP, X-cross and other interesting theory. I started to practice every time I could. For months, I practiced every single day. I remember my daily routine was arriving from school, practice and the doing homework… and then practice more.
After a year, in mid 2010, another competition was announced. As I was more prepared, I felt more confident. I managed to break my first ever national record with a time of 12.11s on 3x3 (before that, the NR was 12.81s). I still remember I was feeling very nervous, I can't explain how it felt to break a record, but it was similar to solving the cube for the first time, exciting and calm at the same time.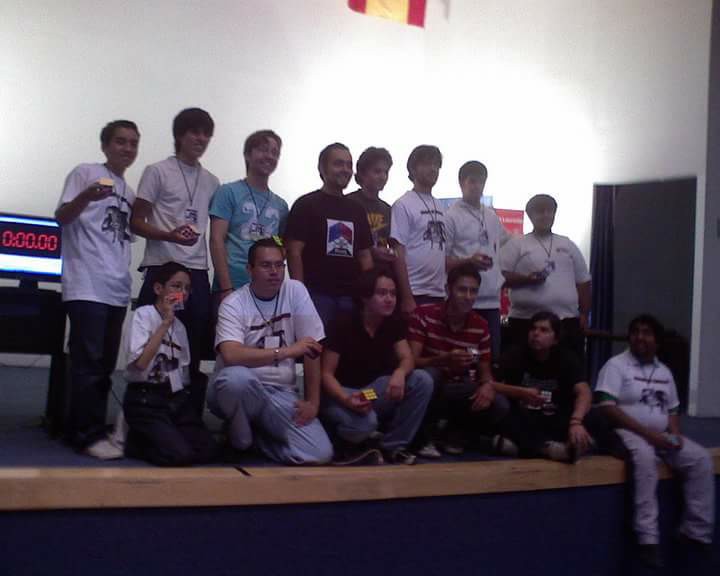 First photo is me on my first tournament in 2009 (left bottom). Second photo is my second tournament, after breaking my first NR in 2010 (in the middle).
During the next years, I went to some other competitions, I managed to break some more records and started to practice all NxNs. This practice paid off when I went to my favorite competition ever: World Rubik's Cube Championship 2011 in Thailand. Here I met my idols: Erik Akkersdijk, Dan Cohen, Simon Westund, Piti Pichedpan, Rowe Hessler, Yu Nakajima, Feliks Zemdegs. There was no better inspiration than seeing them live doing their best to become the fastest speedcubers in the world. I remember breaking my personal best times in competition and coming back to México more motivated than ever.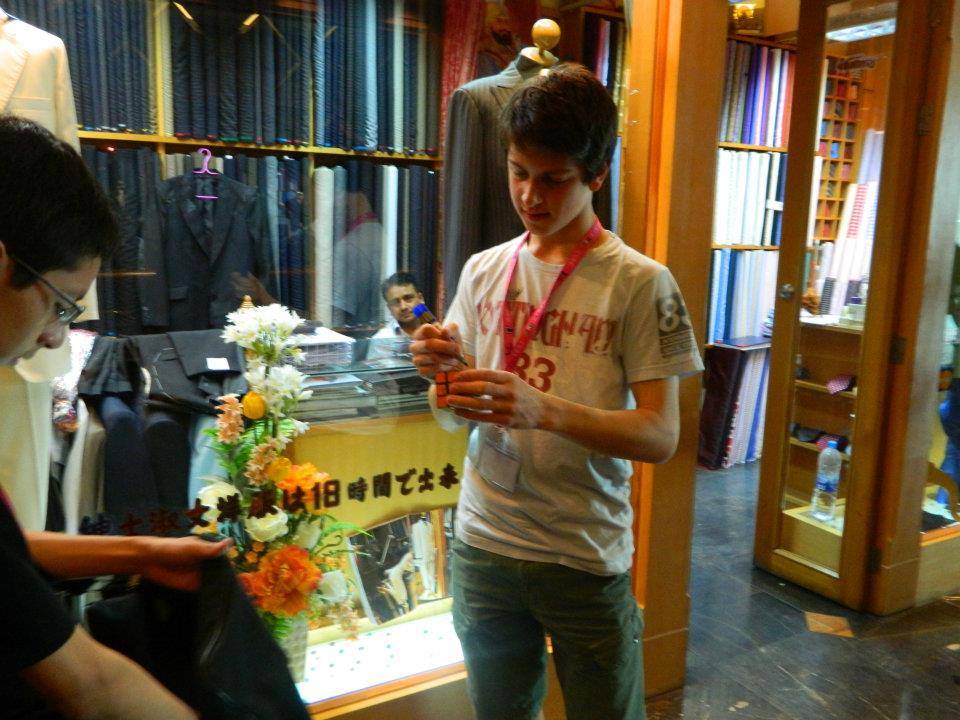 Photo with Feliks Zemdegs. World Rubik's Cube Championship 2011
In that year, I partnered with the only puzzle store in México (Cubikstore) . They supported me on my speedcubing road for the next few years. In 2013, Cubikstore and MoYu made a collaboration, and created the Sánchez Cube (because of my last name), a Weilong with some small design modifications. This cube was sold around the country, and I hope it motivated more than one to become a speedcuber. Fortunately it was sold out.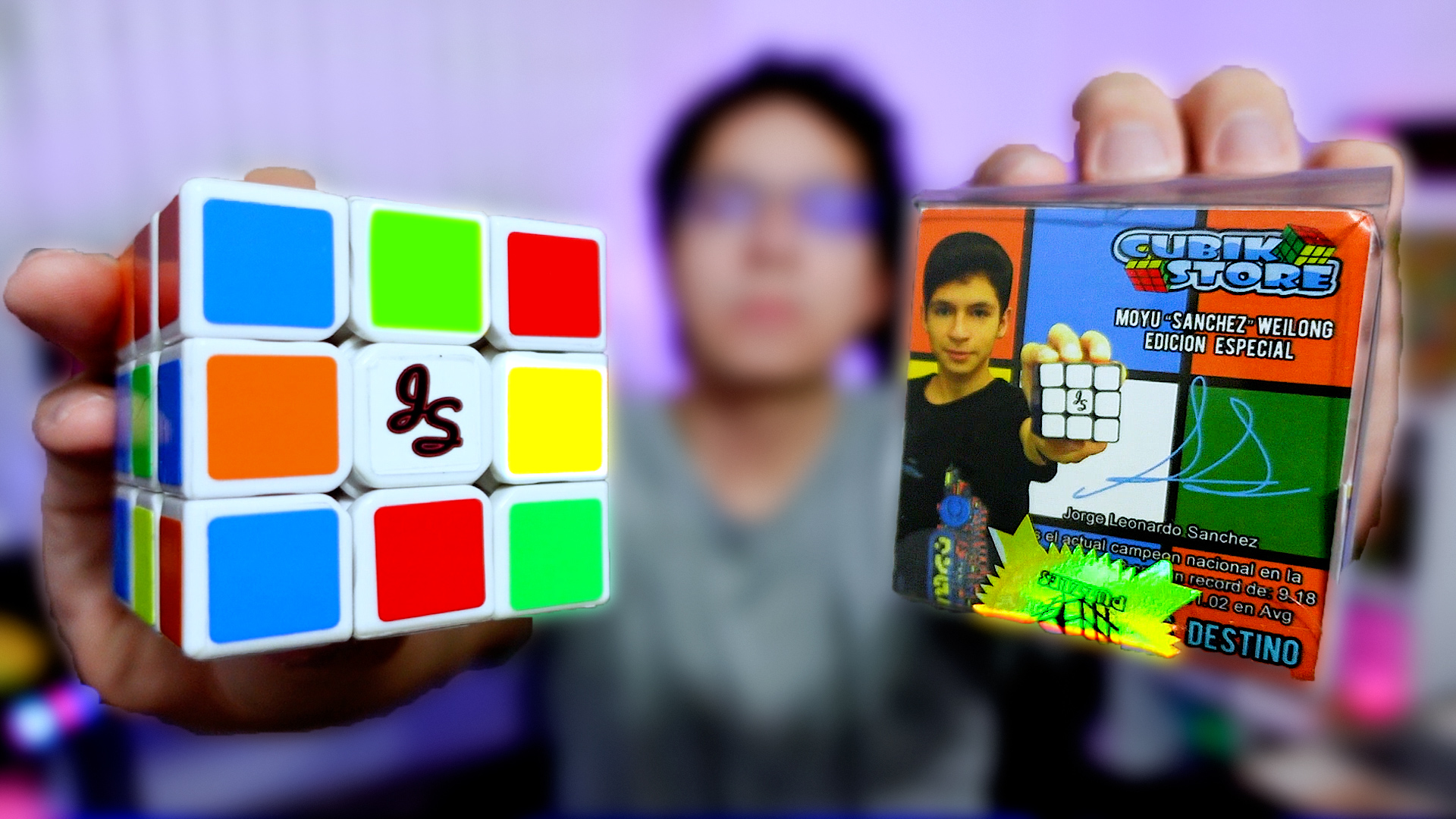 Photo of an original Sánchez Cube from 2013
After some more competitions, personal and national records, Cubikstore supported me to go to World Rubik's Cube Championship 2015 , this time in Brazil. It was an amazing competition, and there, I was able to live one of my favorite speedcubing moments ever. After a lot of nerves and stress, I could classify to the final round of 3x3 category, one of my most wished goals as a cuber. I had the honor to compete next to speedcubing legends. I will never forget how nervous I was that day.
Two years later QiYi MoFangGe and SpeedCubeShop sponsored me. World Championship took place again, this time in France. That was one of the competitions were best results I've ever had and where I could break more than 5 national records. I was able to meet the original M-Team (speedcubers sponsored by QiYi MoFangGe).
This competition appeared in the Netflix Documentary "The Speedcubers". I actually am in the documentary! But only for about 2 seconds…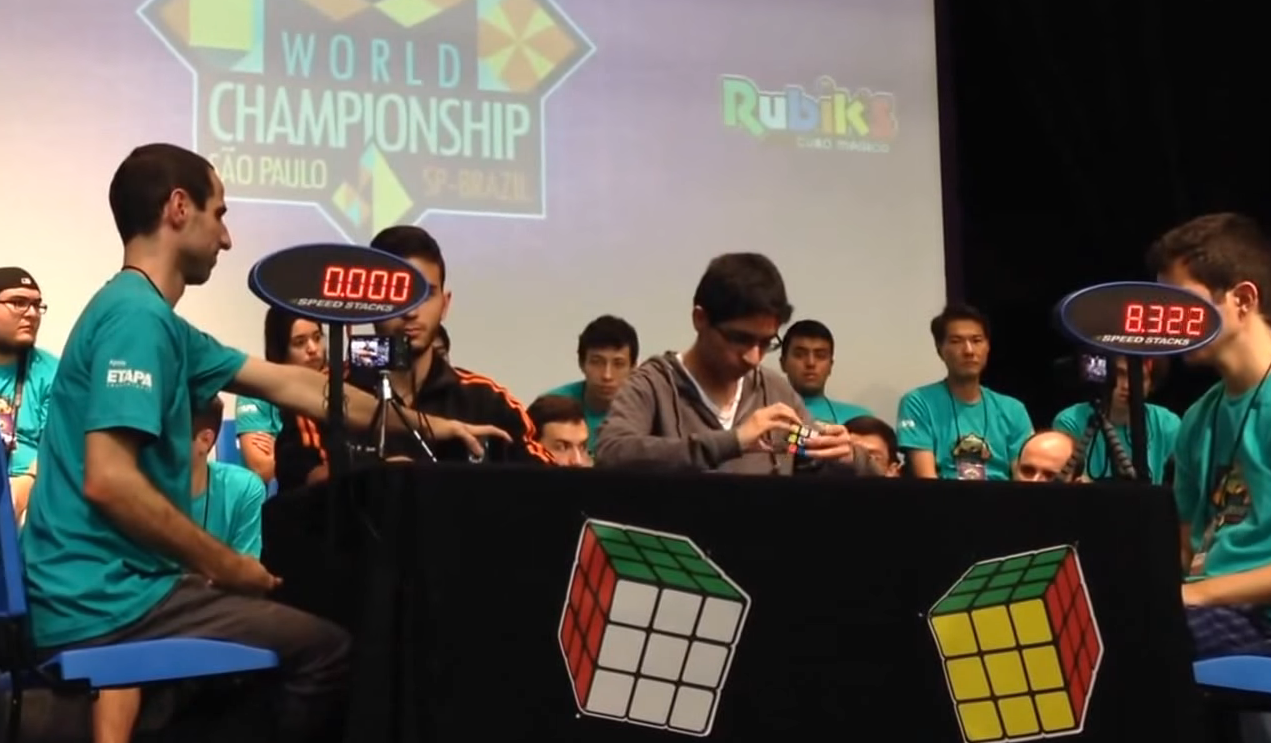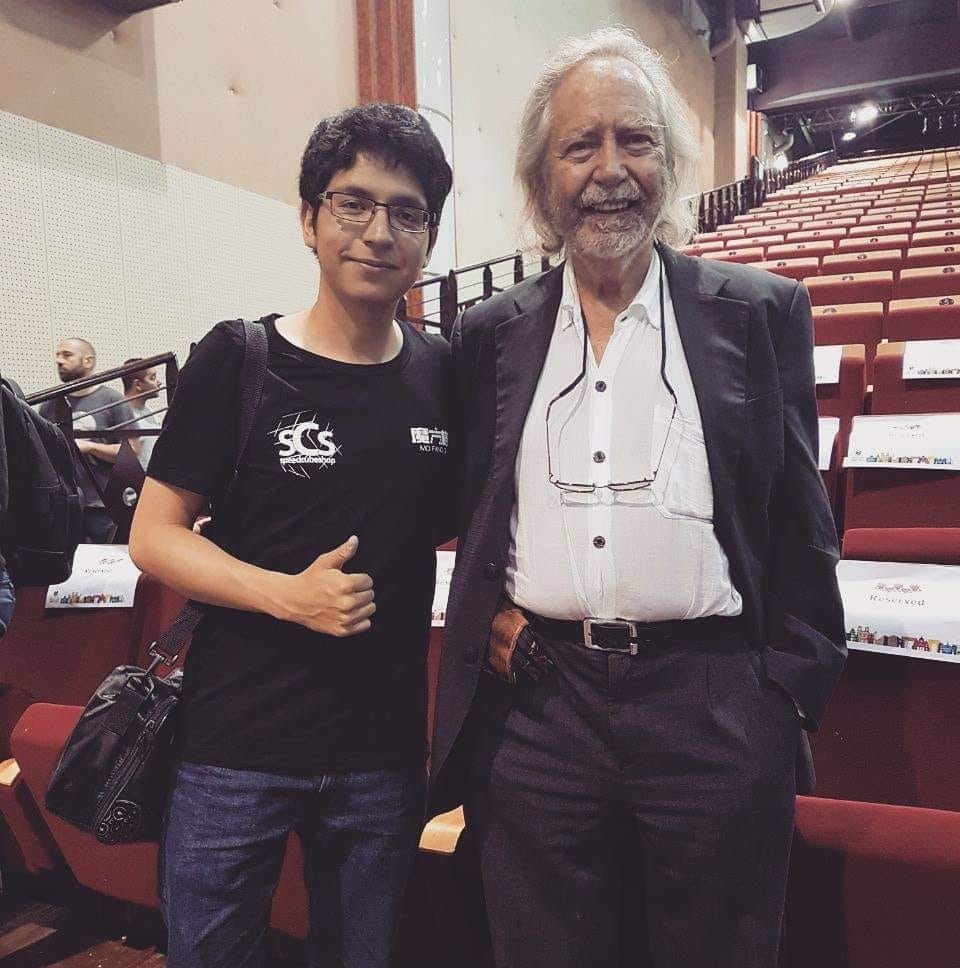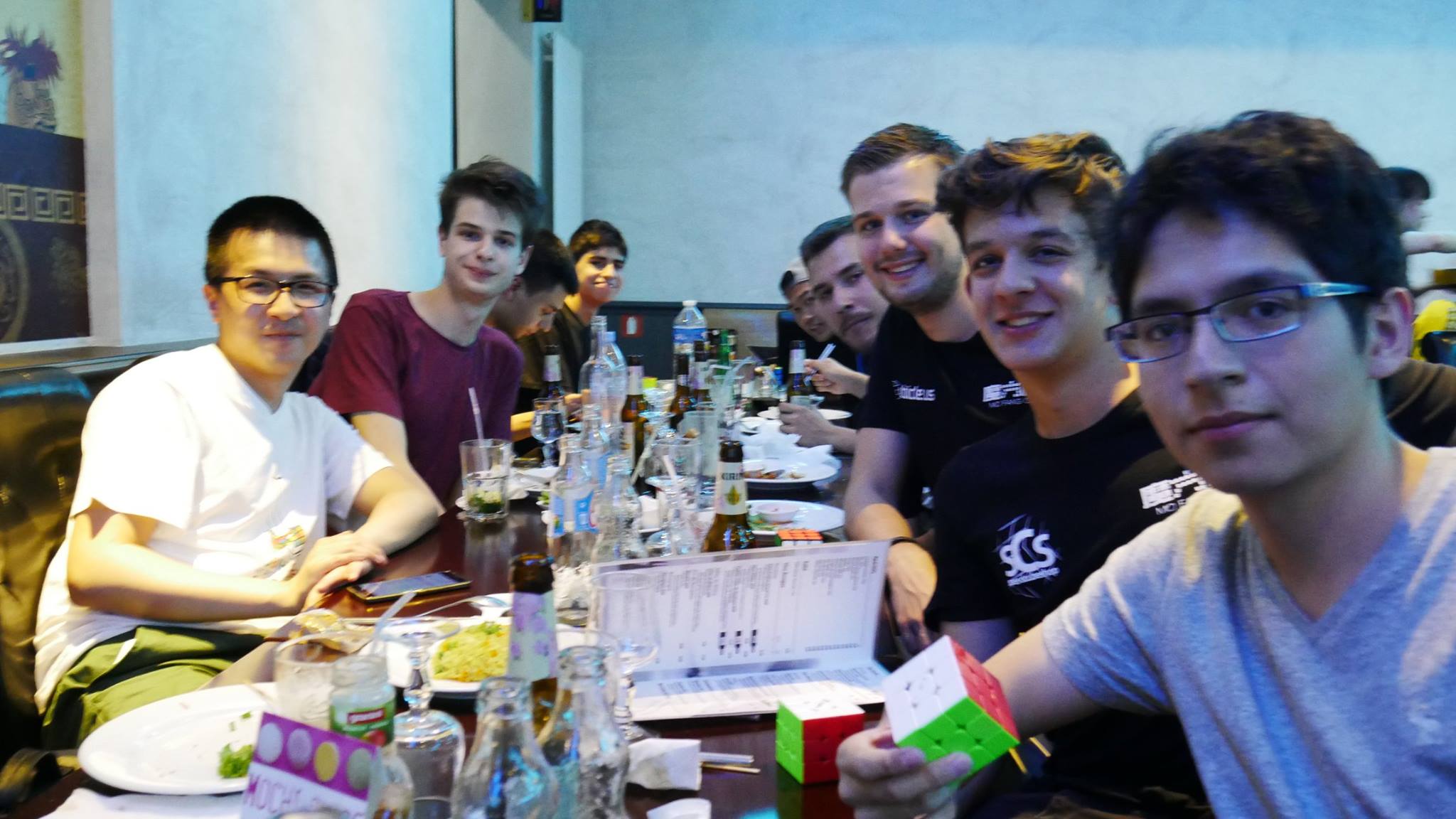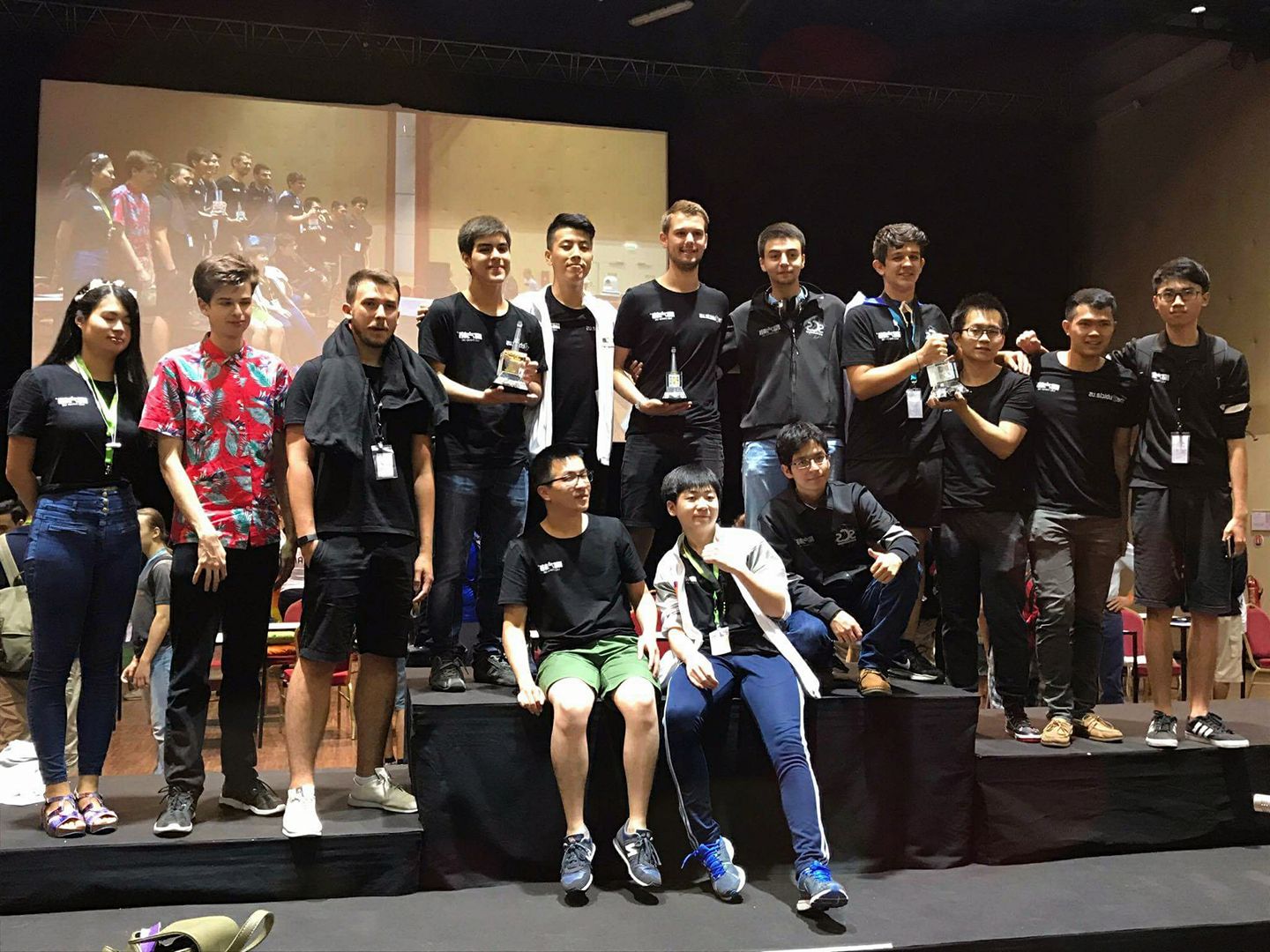 First photo: Me in the 3x3 final at World Rubik's Cube Championship 2015 in Brazil (guy in gray)
Second photo: Me at the World Championship in 2017, next to Uwe Meffert.
Third photo: Me at Netflix documentary "The speedcubers" (left)
Fourth and fifth photo: M-Team reunited at the World Championship in 2017.
During the next years, I could break some other National Records. I watched how speedcubing in México progressed a lot (some speedcubers had WRs or CRs). However, due to COVID-19, competitions were postponed. During this time, I focused a lot on practicing, but also on making my YouTube channel grow. My intention was always to share speedcubing around the world, especially among the Latin American and Spanish community, and, if possible, also making a living from it.
Today, I am preparing for future competitions. My goal is to break again all NxN NRs. On YouTube, my main goal is to eventually get 1 million subscribers. I know it is possible, but it's a matter of time and dedication (and support from others, thank you Cubertime <3). I hope you liked my story! Thank you for reading. And remember, keep cubing.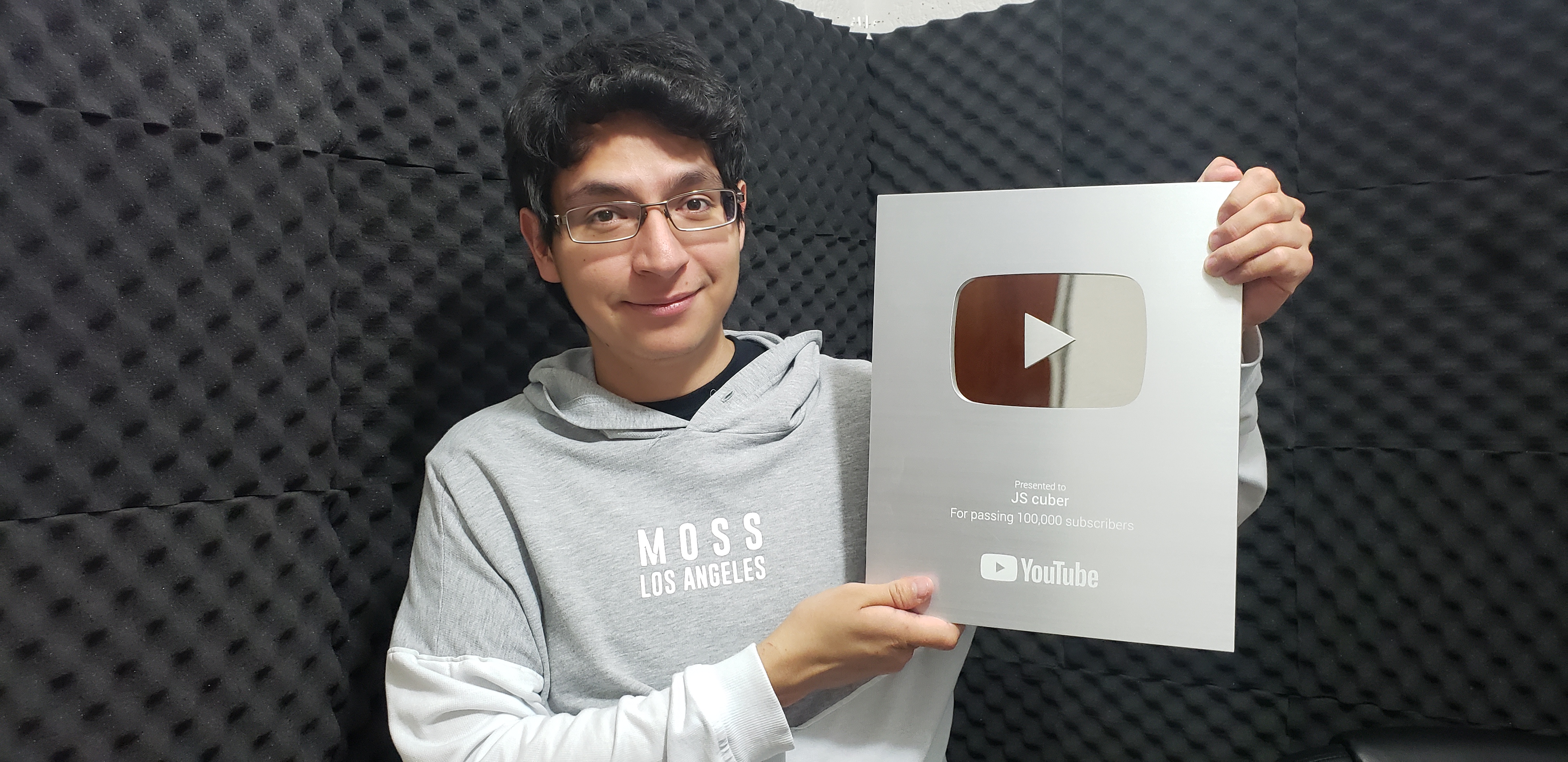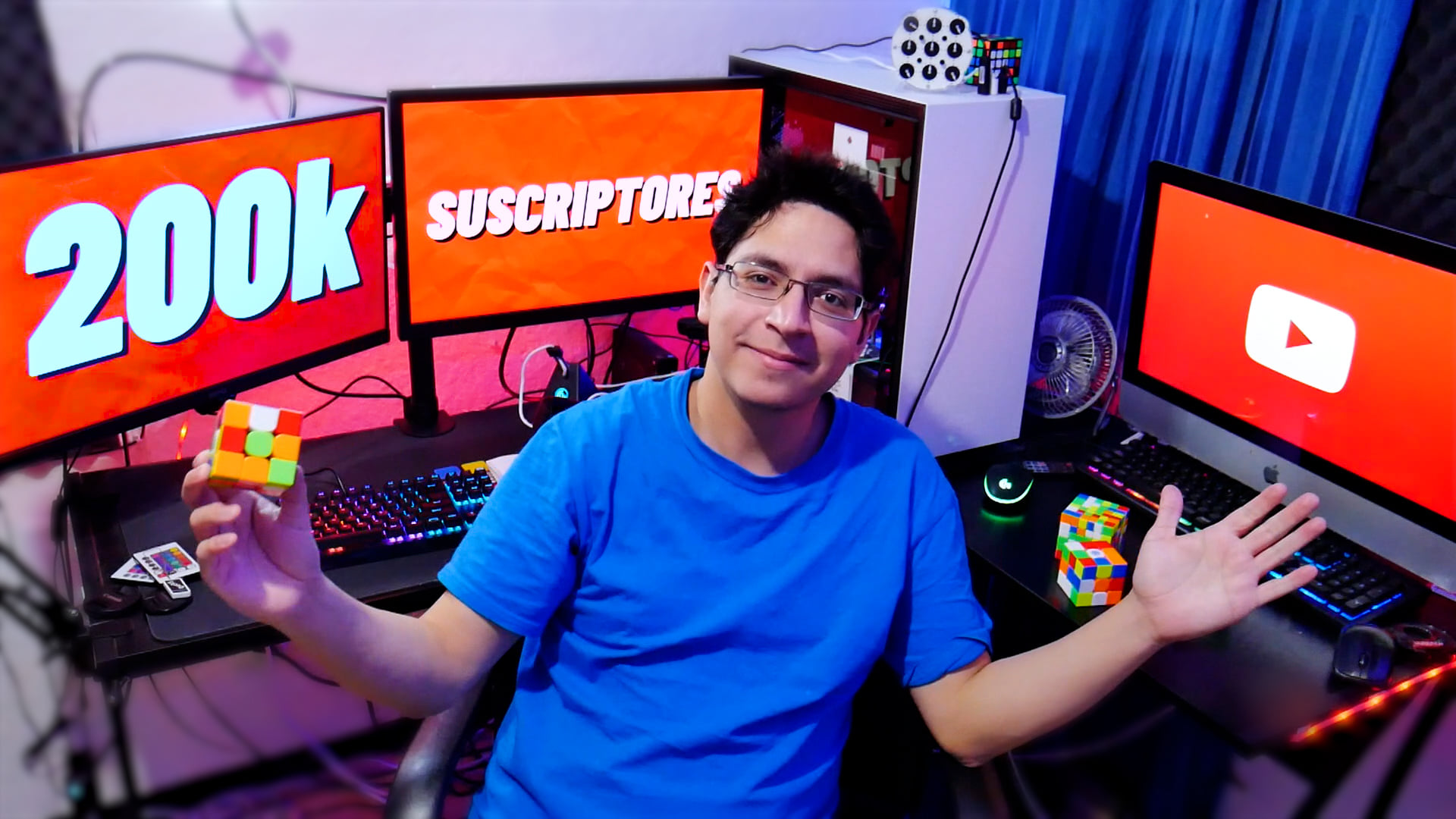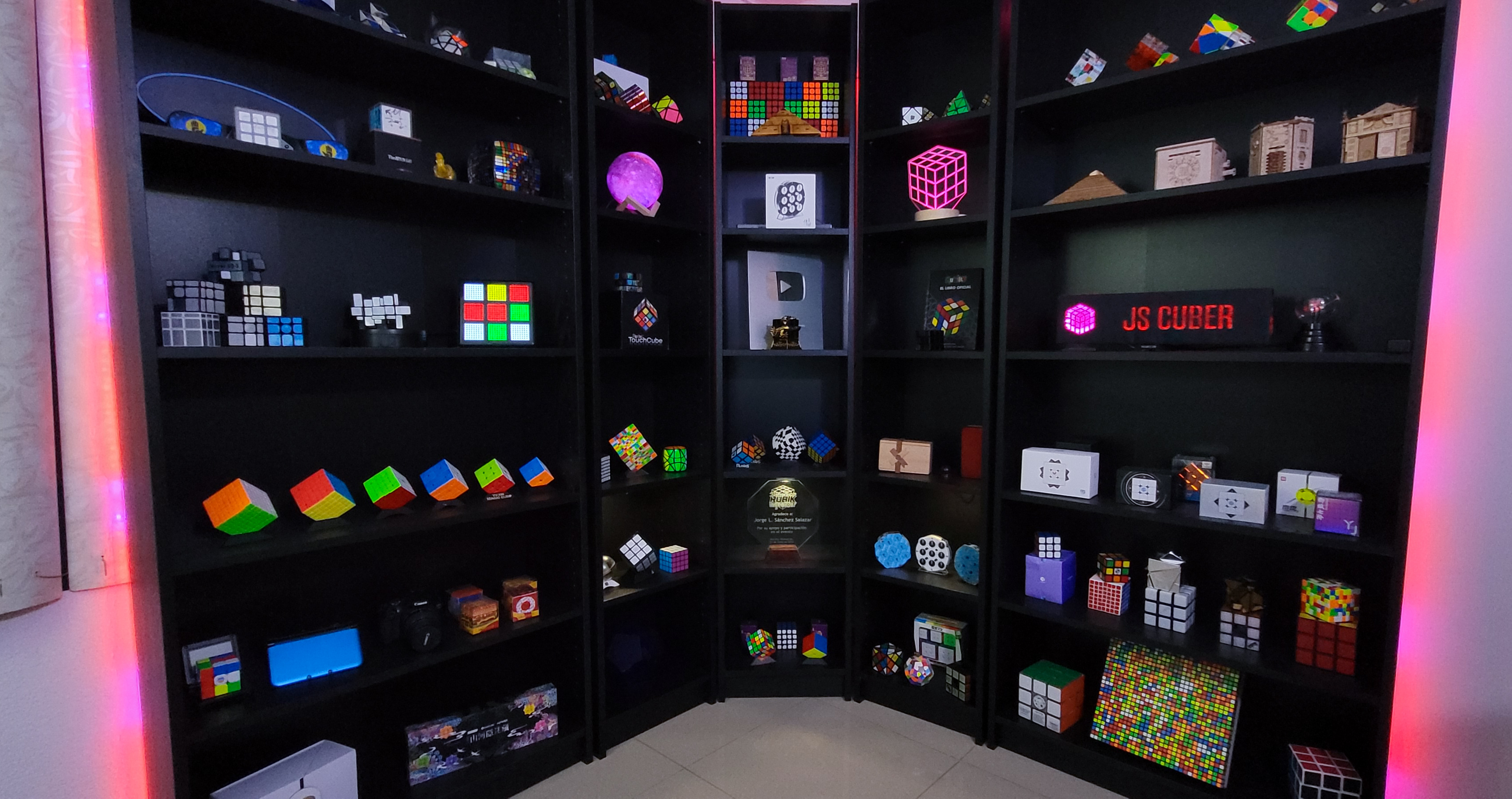 First photo: YouTube Silver button (100K subscribers)
Second photo: Reaching 200K subscribers
Third photo: My current setup until 2022.
blog.comment.form_title